Become an Expert in Medicine
Pharmacy is a branch of health sciences dealing with the preparation, dispensing and proper safe utilization of medicines. A pharmacist is a health professional who links health sciences with chemical sciences. He/she is charged with ensuring the safe and effective use of medication.
Pharmacists also provides advice to patients about medicines, including how to take them, what reactions may occur and answering patient's questions.
The Diploma of Pharmacy in ICAN encourages aspiring students pathways to pursue a Pharmacy Degree or Pharmaceutical Science Degree. ICAN ALumni consists of many straight A's students from the science stream who have successfully completed their degree in Pharmacy via our pathway.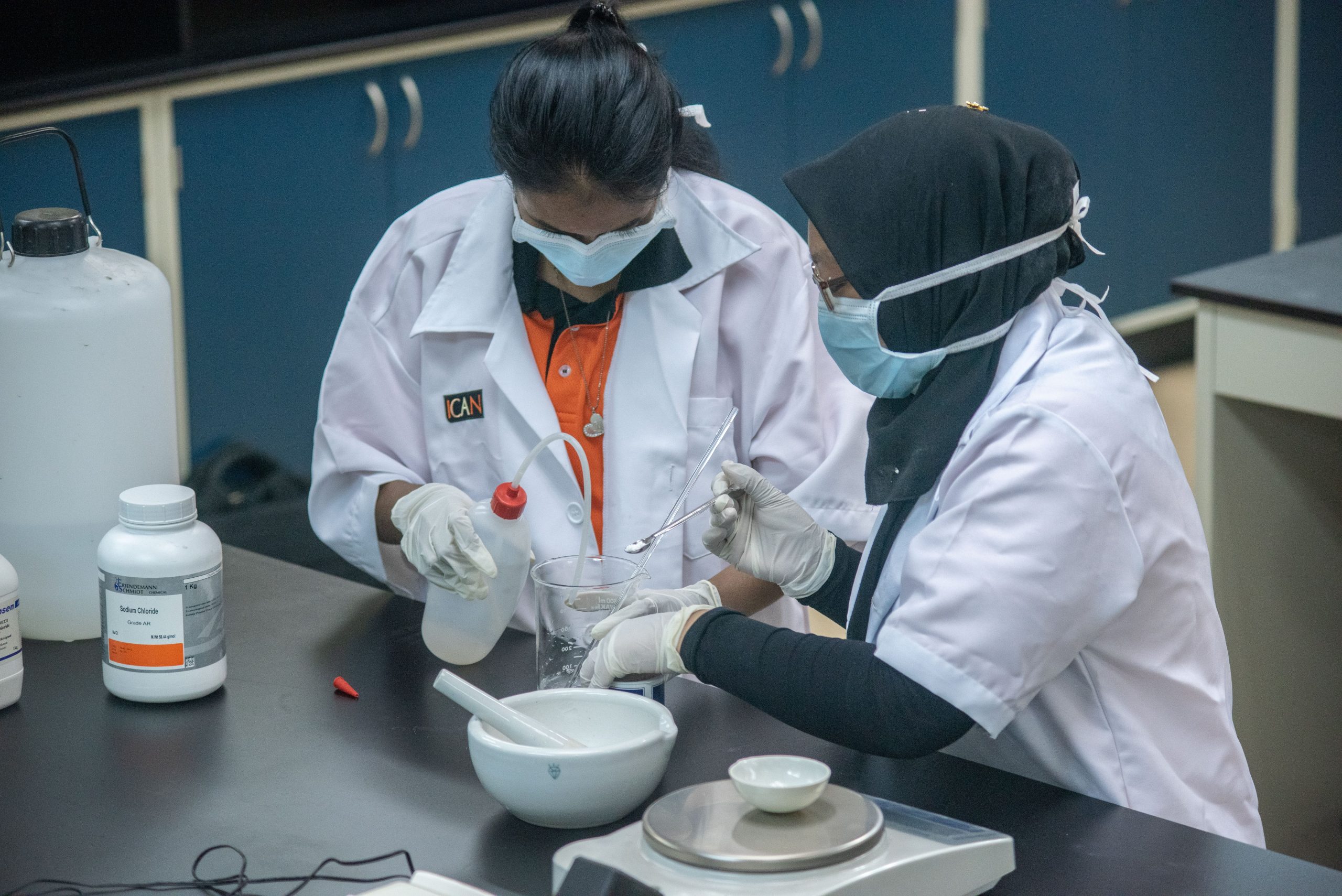 A Taste of What You Will Experience Studying at ICAN
3 years of Diploma in Pharmacy programme will ensure students become fully capable to be professional pharmacist assistants or technicians. A wide range of pharmaceutical and therapeutic subjects will be covered throughout the 3 years period. The program also includes extensive hands-on lab practice and clinical attachment in hospitals.
Students will learn about medication dispensing practices, the art of patient counselling and how to work cohesively with other health care professionals. In addition, they will learn how to manage inventory of pharmaceutical drugs in hospitals and community pharmacies.
Accreditation Code:

 A 9818

Approval Code:

R2/727/4/0036: 4/2024
Graduates of Diploma in Pharmacy from ICAN College will have excellent career prospects in: 
Government / private hospitals and clinics 
Retail / community pharmacies
Educational / research institutions (tutor/lectures)
Pharmaceutical companies
Quality control laboratories
Pharmaceutical industry
sales & marketing (Product specialist)
A Diploma in Pharmacy from ICAN College gives you a pathway to further your studies in domestic and international universities.
The Pharmacy programme offers opportunities for students to further their studies in:
Bachelor in Pharmaceutical Sciences
Bachelor in Biomedical Sciences 
Bachelor in Traditional Chinese Medicine
Bachelor in Homeopathic Medical Science
The Articulation Agreement with Swinburne University allows pathways into Year 2 of any Degree programme as listed.
ICAN College welcomes International Student applications from various countries subject to similar qualifications from their home country with the Malaysian Certificate of Education (SPM) or O' Level equivalent.
Register For The Next Intake
Any Questions? Reach us here