MEDICAL LABORATORY TECHNOLOGY DIPLOMA
Exceed in Laboratory Environments
Medical Laboratory Technology is a program under allied health sciences that specializes in broad areas of science such as microbiology, chemical pathology, hematology etc.
The medical laboratory technician plays a critical role
in assisting physicians and other healthcare practitioners for
disease diagnosis, lab instrument surveillance and quality assurance in laboratory settings.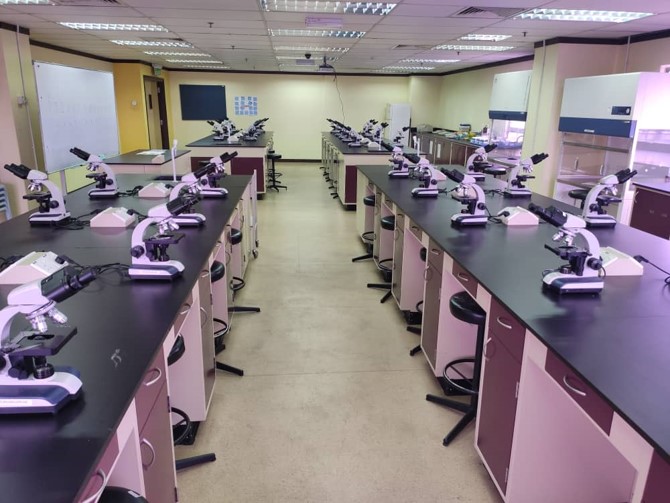 A Taste of What You Will Experience Studying at ICAN
A 3 year full-time Diploma in Medical Laboratory Technology program is where a student will learn the fundamentals of becoming a fully capable and professional medical laboratory technologist. ICAN offers extensive hands-on lab practice and practical training in various laboratory divisions such as Hematology, Medical Microbiology and Histopathology.
Students will learn how to handle biomedical equipment and manual method to perform laboratory testing on blood and other body fluids. Students will learn how to generate laboratory data needed to aid in the detection of diseases, infections and drug abuse. In addition, they will learn to set up equipment and keep track of stock and supplies in laboratories. Students will also be trained to work as a team with other healthcare providers.
Accreditation Code:

A 9817

Approval Code:

R2/725/4/0069: 11/2025
Graduates of Diploma in Medical Laboratory Technology from ICAN College will have excellent career prospects in:
Government/private hospitals and clinics
Diagnostic and pathological laboratories
Educational institutions (instructor/tutor)
Clinical and medical research
organizations (researcher)
Medical equipment and device
companies
Sales & marketing (product
specialist/sales representative)
Quality assurance officer in laboratories
Health and safety consultancies
Laboratory information centers
Transplant and blood donor centers
Biotechnology companies
Fertility clinics
Stem cells banks
Insurance (medical underwriter/claims)
Pharmaceutical companies
A Diploma in Medical Laboratory Technology from ICAN College allows you a pathway to further your studies into domestic and international universities.
The Diploma in Medical Laboratory Technology offers opportunities for graduands to further their studies in:
Bachelor of Biomedical Science
Bachelor of Medical Laboratory Technology
BSc in Medical Imaging Technology
BSc Clinical Laboratory Technology
BSc ECG and Cardiovascular Technology
The Articulation Agreement with Swinburne University allows pathways into Year 2 of any Degree programme as listed.
ICAN College welcomes International Student applications from various countries subject to similar qualifications from their home country with the Malaysian Certificate of Education (SPM) or O' Level equivalent.
Register For The Next Intake
Any Questions? Reach us here